Why can I not consume this? WHY!?!?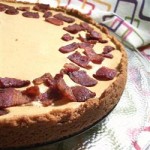 http://allrecipes.com/Recipe/Joes-Incre ... etail.aspx
Ingredients
* 1/2 cup cubed fresh pumpkin
* 1 1/2 cups cream cheese, softened
* 1 cup packed brown sugar
* 3 eggs
* 1 teaspoon vanilla extract
* 1 cup half-and-half
* 1 teaspoon ground cinnamon
* 1/2 teaspoon ground ginger
* 1/2 teaspoon ground allspice
* 1/2 teaspoon ground cloves
* 2 (10 inch) prepared graham cracker pie crust
* 16 slices maple-cured bacon
Directions
1. Preheat oven to 425 degrees F (220 degrees C).
2. Bring a small pot of salted water to a boil; add the pumpkin and cook until soft enough to easily pierce with a fork, about 10 minutes. Drain.
3. Mash the cooked pumpkin with a potato masher in your favorite large bowl. Mix the cream cheese and brown sugar with the mashed pumpkin. Whisk in the eggs one at a time. Add the vanilla, half-and-half, cinnamon, ginger, allspice, and cloves; stir until you have a thin batter. The batter should be slightly thinner than pancake batter. Pour the batter into the pie crusts.
4. Place bacon in a large skillet over medium heat until evenly brown. Trim soft, fatty bits from strips. Press 7 pieces of bacon into the batter of each pie with a fork.
5. Bake the pies in the preheated oven for 15 minutes. Decrease the heat to 375 degrees F (190 degrees C). Top each pie with 2 pieces of cooked bacon and bake another 30 minutes, or until a knife inserted in the center comes out clean. Allow pies to cool completely before serving.